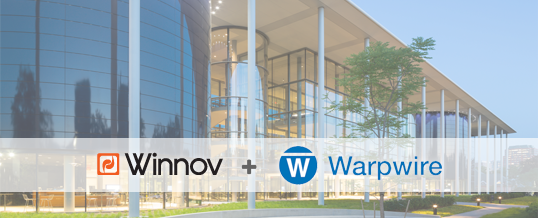 Winnov and Warpwire have collaborated on a project for a top-ranked university in Connecticut. Offering a range of graduate programs, the university was seeking ways to expand and enhance learning experiences for its students through the use of video. The university needed a robust lecture capture solution and a simple way to manage recorders, organize and deliver recorded videos to their community members, securely. Winnov and Warpwire were selected to tackle the challenge together.
Winnov, a leading technology provider of capture and streaming technology, offers rack-mountable and portable lecture capture options within their Cbox product line. Cbox integrates with existing AV equipment, third party scheduling and room control systems to make lecture capture flexible and effortless.
Warpwire, a streamlined video platform for education, provides a video delivery solution that seamlessly integrates with institutions' existing LMS and Single Sign-On tools, creating a simple way to incorporate video into coursework.
Together, Winnov and Warpwire present an automated end-to-end lecture capture solution that effectively and securely reaches target audiences, and is easy to access and organize.
After integration with the university's Single Sign-On system and migration of existing media assets into its global delivery network, Warpwire tackled integration with the university's large deployment of Cbox lecture capture appliances.
The university had an existing relationship with Winnov, using their Cbox lecture capture appliances and centralized recorder management system over the last several years. Cbox enables the university to capture from multiple AV sources and attach chapters, thumbnails, searchable text, and other metadata auto-generated in real time to recordings. The centralized management system allows remote monitoring, control, and recording activities of Cbox appliances deployed across the network.
Warpwire created an application to interface with Winnov's Cbox. The bi-directional communication between the Cbox and Warpwire's cloud-hosted video management tool ensures a simple workflow for those at the university who want to record and share lectures and events.
At the point of capture, thanks to the university's event management system (EMS), recordings are automatically associated with the correct course based on calendar data. Videos can also be set to published or unpublished, depending on instructor needs. After the recording session is complete, Winnov sends both an optimized mobile and desktop version of the recording, along with relevant metadata, to Warpwire. This information allows Warpwire to automatically place the Cbox recording into the Warpwire Media Library that corresponds with the video's course. When recorded videos are accessed, the Winnov HTML5 rich media player automatically detects the device and provides the appropriate version of the recording to ensure the best playback experience for students.
The permissions selected at the point of recording persist in Warpwire; if a video is designated private when it's recorded, the video will also be private when published.
Warpwire's seamless integration with the university's LMS makes it easy for instructors and administrators to incorporate the Cbox-recorded videos into their courses. Additionally, Warpwire's CDN allows for reliable global delivery of video content, for university affiliates around the world.
"Winnov and Warpwire's technologies just work so well together. Automating the full process of lecture capture and secure delivery should be this easy for all of our clients."
– Andrew Synowiez, Chief Operating Officer at Warpwire
Winnov's powerful Cbox lecture capture appliance allows for high quality multi-source lecture capture for university classes and events.
Via the Warpwire Winnov Uploader, the Winnov video and metadata are automatically and seamlessly transferred to the Warpwire video management system, and subsequently to university members, both inside and outside the LMS.
This unbeatable partnership allows the university to harness the power of lecture capture without a burdensome video management and sharing workflow. Warpwire and Winnov integrate well, and so reduce the repetitive and manual process of individual sorting and sharing of video content.
Winnov is a technology leader in HD capture and streaming and maker of Cbox – the AV platform that evolves with customer needs. Cbox solutions provide organizations with a cost-effective way to easily capture and share rich media experiences. Fortune 500 companies, leading universities, training organizations, and government agencies rely on Cbox to create the most engaging live and on-demand video experiences for the web and mobile devices.
Contact:
Joaquin Costa
info@winnov.com
Phone: (408) 605-0382
www.winnov.com