Warpwire is a secure media platform that helps educators and their students connect through video while keeping their content secure. Whether you are an instructor, student, or administrator, our software is designed to be simple and easy to use, flexible enough to suit your unique needs, and lightweight to seamlessly fit into your workflows.
This article will give you a quick overview of the basics, and will help you get started incorporating video into your courses.
First, you'll need to create a Media Library to house your media content. You can create a Media Library by clicking "Create Media Library," the + button, on the Media Libraries page. By default, this Media Library is only viewable by your account.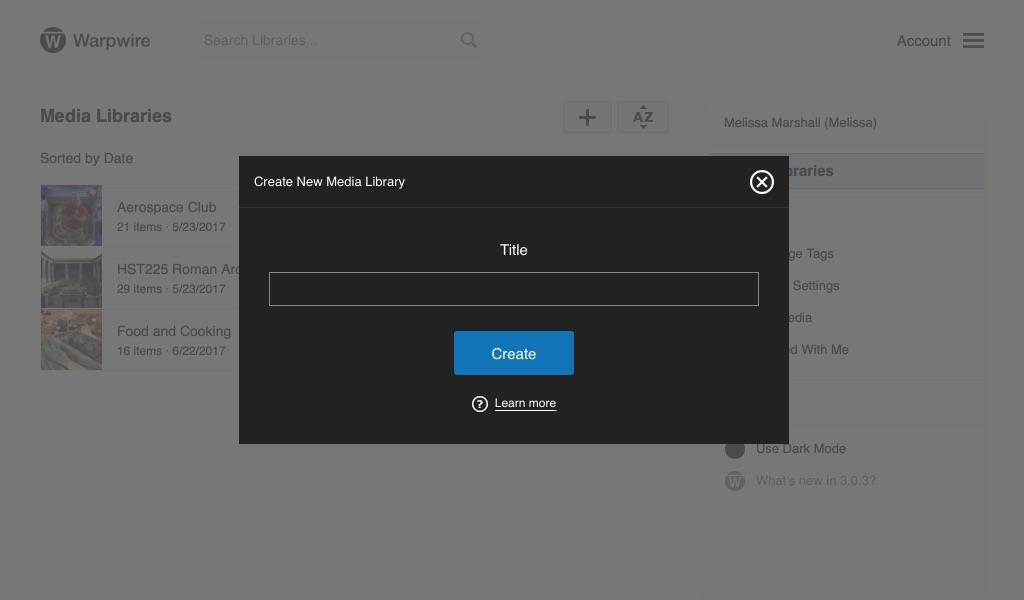 You can also create a new Media Library from the upper-left navigation. All you have to do is give your new Media Library a title, then click "Create New."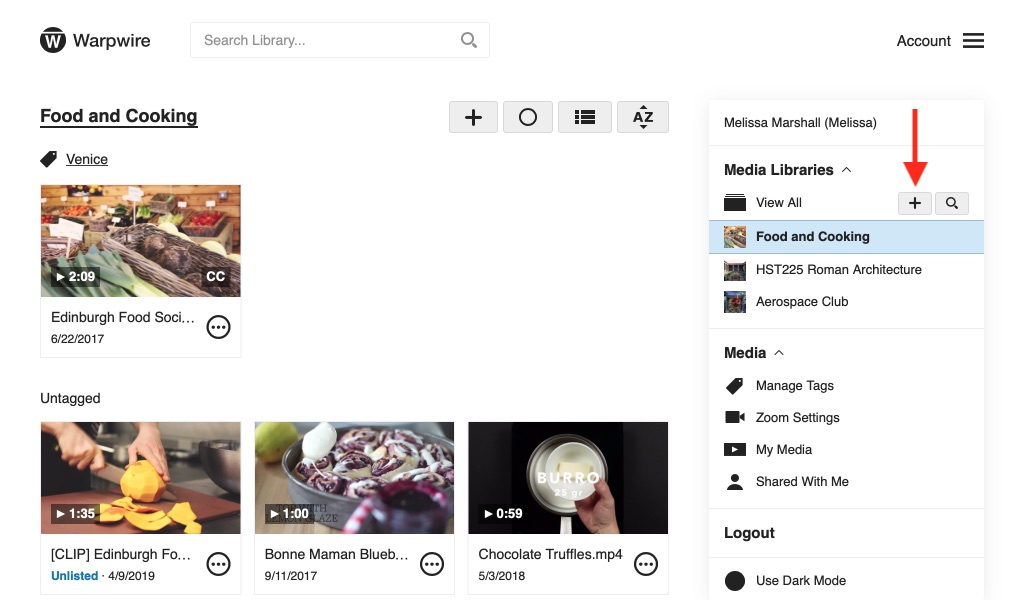 Your newly created Media Library will appear on the Media Libraries page.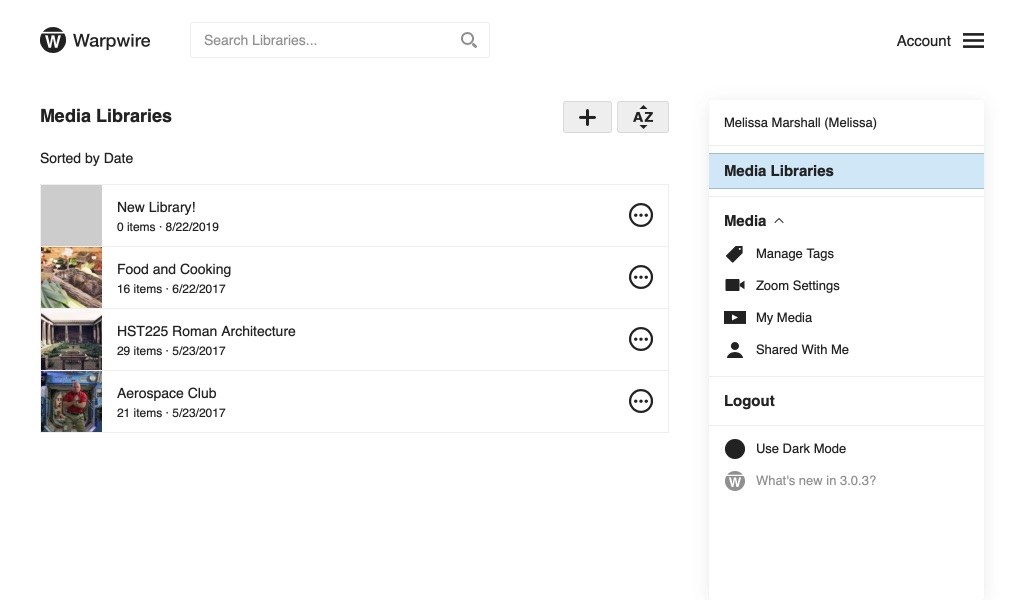 Navigate to the Media Library where you want to upload files. You'll see a plus (+) icon in the upper-right of the screen. Click this button and then select "Upload Files" from the drop-down menu options.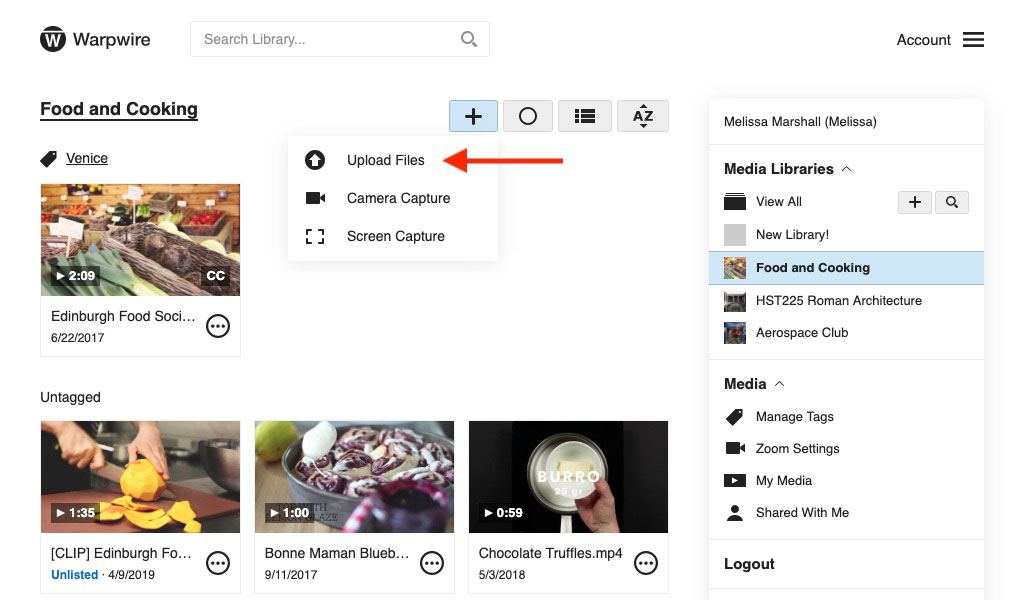 This will open a file browser if you're using a personal computer, or your mobile device's file storage. Select one or several files to upload.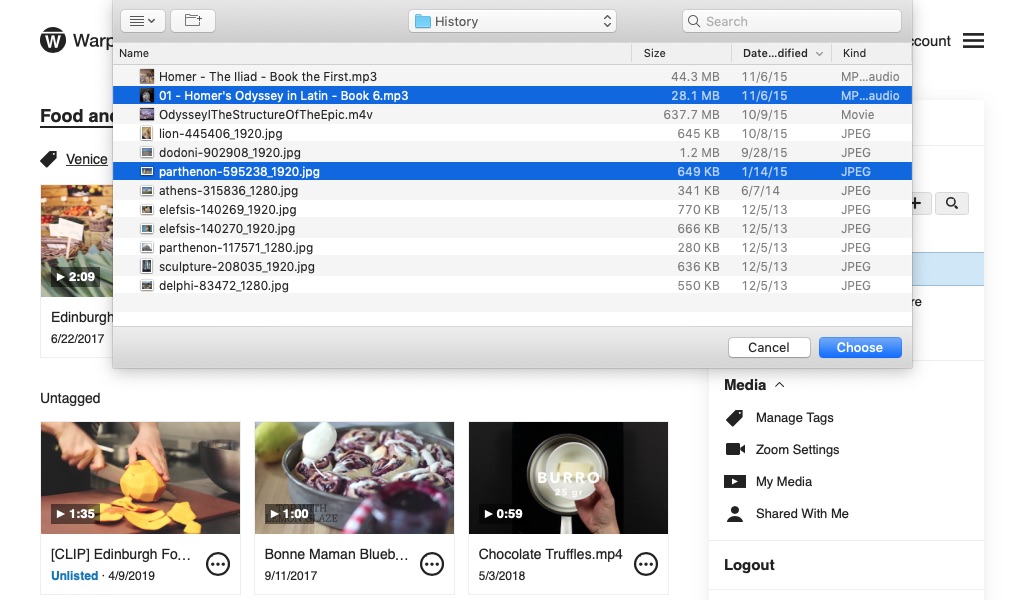 If you're only uploading a single file, you'll have the opportunity to edit the file's Title and Description before clicking the "Start Uploading" button.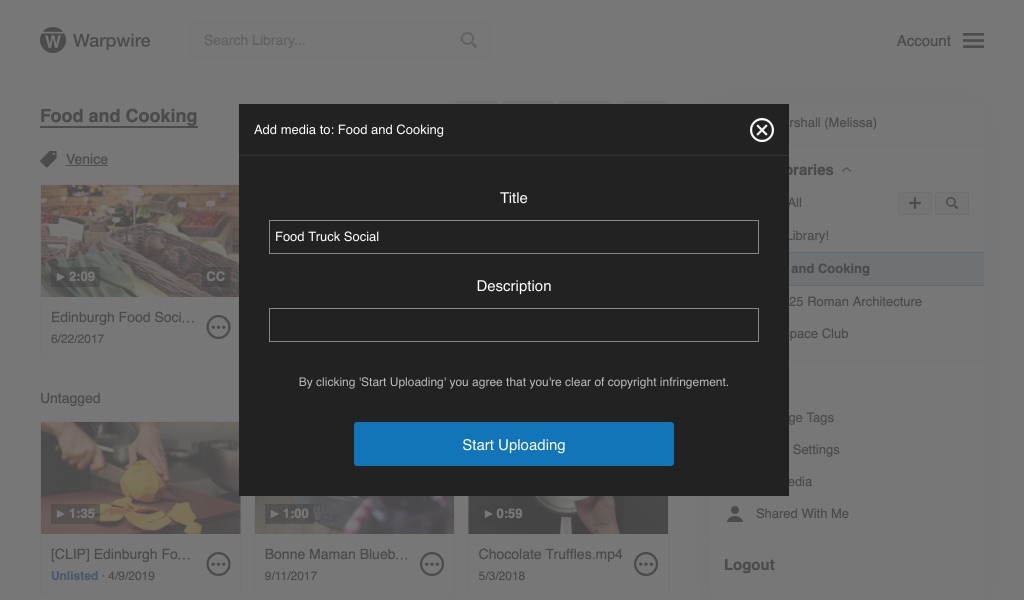 As the file(s) upload to your Media Library, you'll see an upload progress bar at the bottom of the screen. The files will begin to appear in the library. When the upload progress bar goes away, all of your files are in the Media Library and your upload is complete.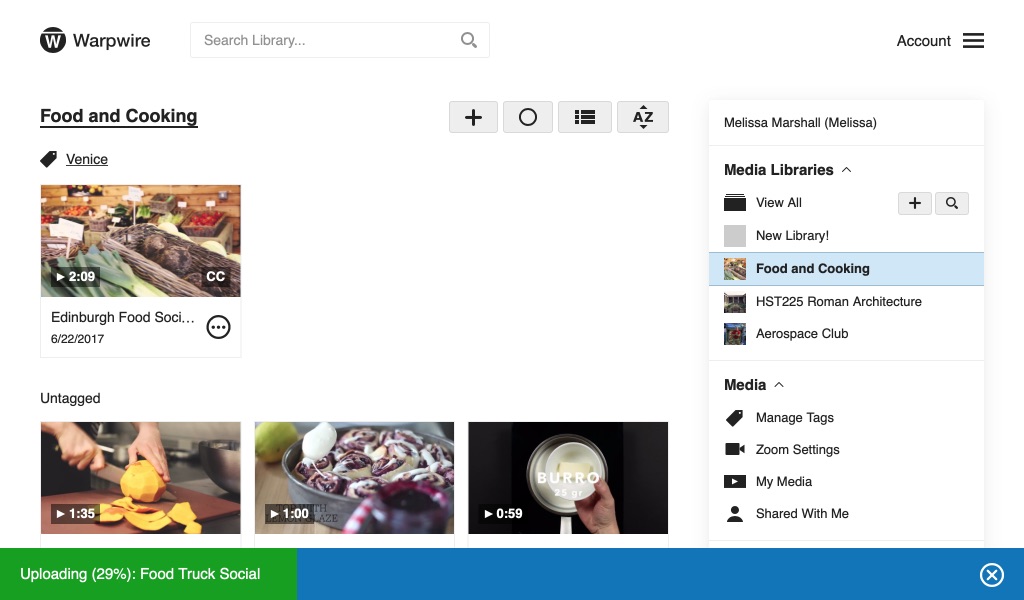 If you wish to cancel the upload, click the cancel upload button on the right of the progress bar and verify your choice.
Warpwire provides modern HTML5-based video capture from all browsers that support it (right now, this means Mozilla Firefox, Google Chrome, or Opera). If your browser doesn't support HTML5 capture, you'll be automatically directed to our legacy Adobe Flash capture interface. You can read the support guide for HTML5 and Flash capture here.
To capture video directly from the browser, begin by navigating to the Media Library you want your video to be in. Then, click the + button in the upper-right of the page.
Next, select "Capture from camera" from the drop-down menu to begin the media capture process.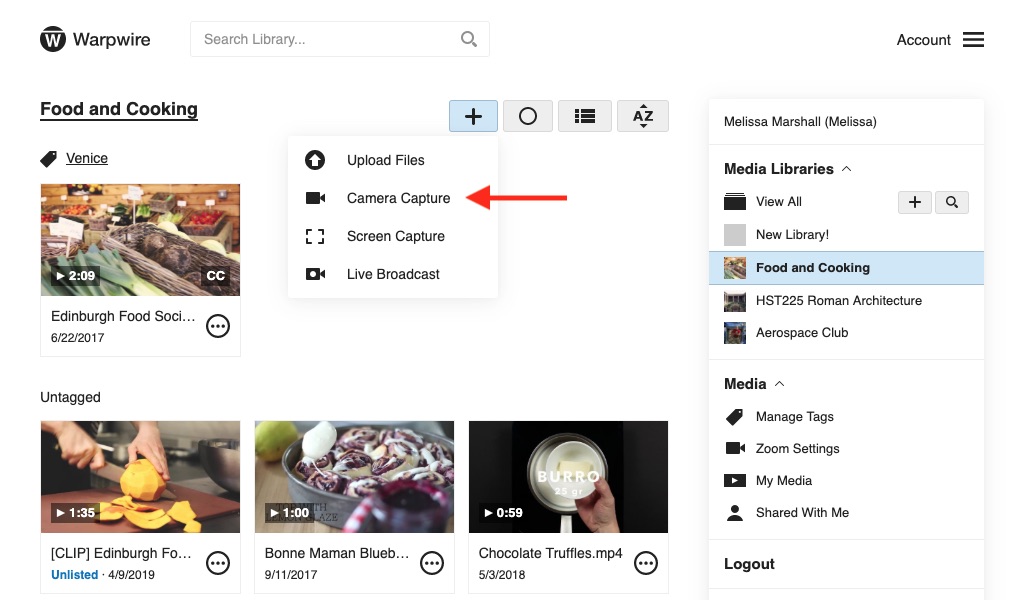 Depending on your browser, you may have to explicitly allow your camera and microphone to be used. You can also select the Audio and Video source, if you have external cameras or microphones attached to your device.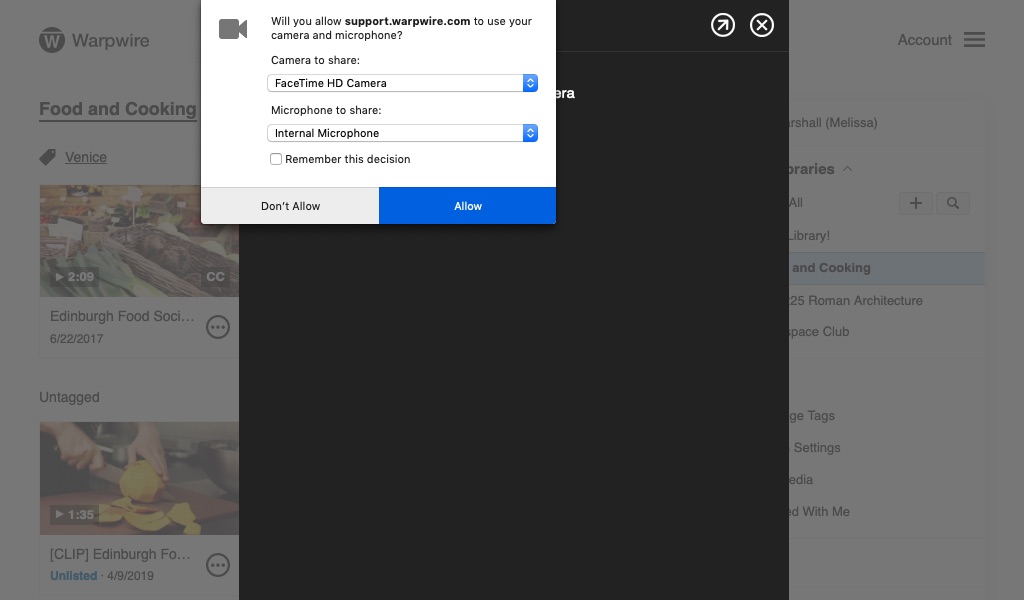 Click the round video camera button to begin recording your video, then click the button again to stop recording.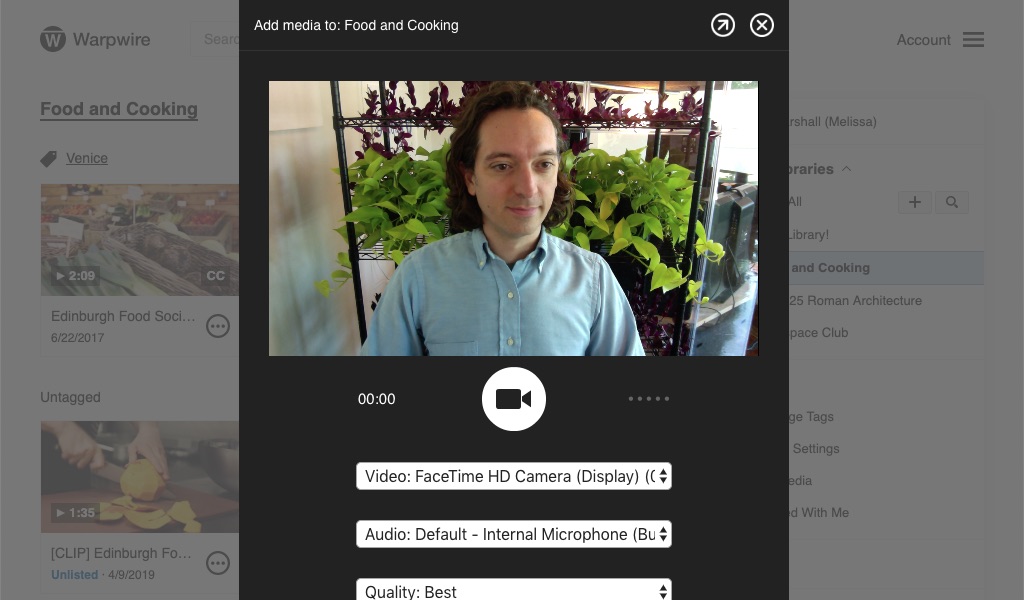 Click "Confirm" once you've named your video, to save it to the Media Library.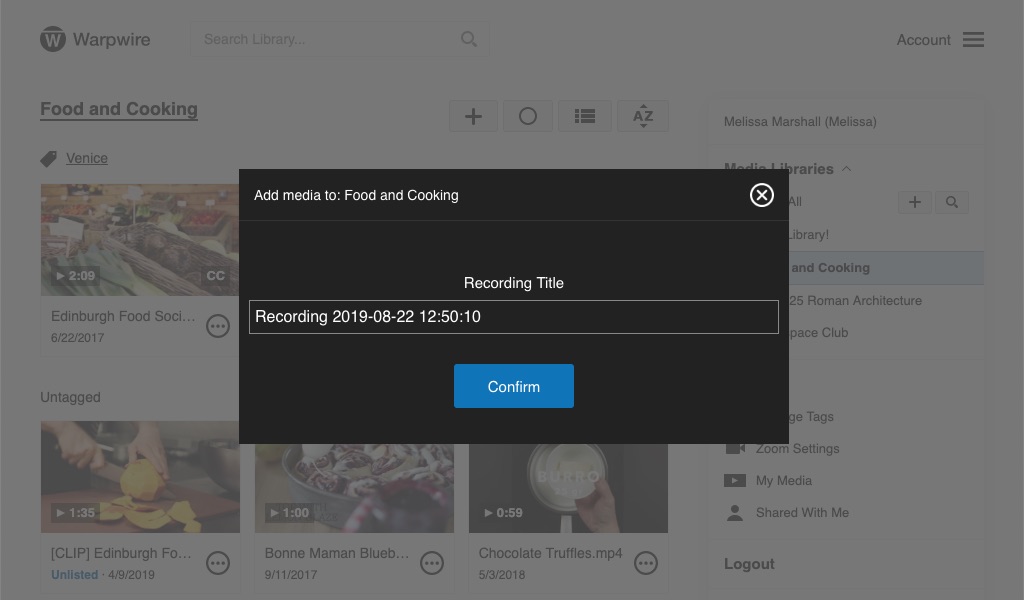 Users can record their screens directly from Warpwire using our Screen Capture tool. This feature is currently supported in both Mozilla Firefox and Google Chrome.
To record your screen, first navigate to the Media Library where you'd like to make your recording.
Then, click the plus icon (+) in the upper-right of the screen, and select "Screen Capture" from the drop down menu.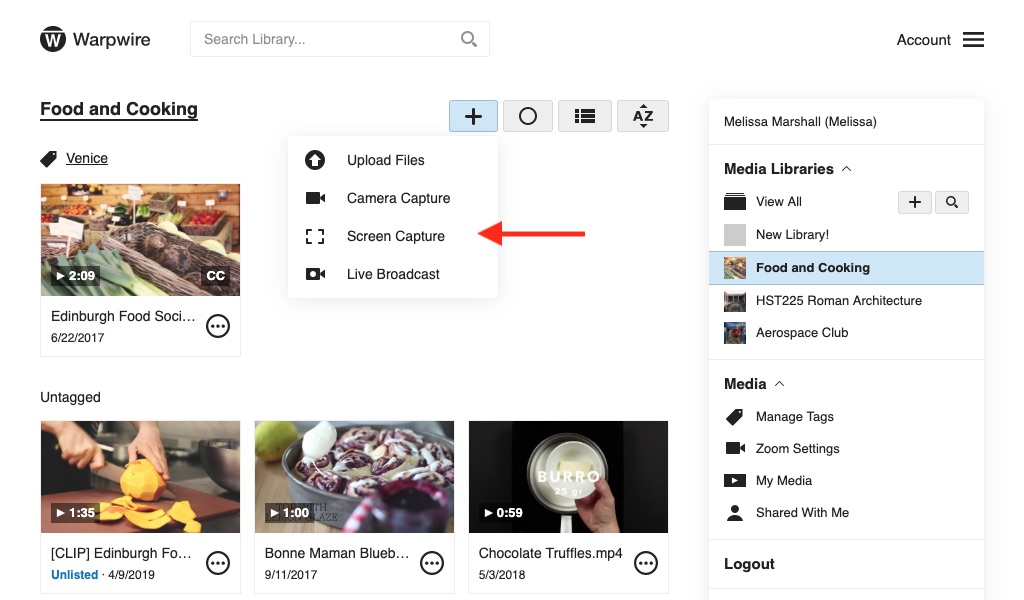 If you've never used Warpwire's Screen Capture tool before, you'll be prompted to download the Warpwire Screen Capture Google Chrome extension before proceeding. If you're using Firefox, you'll be asked permission to record your screen.
You can either capture your entire screen, by selecting the "Entire Screen" option, or click "Specific Window" to select the window you want to record.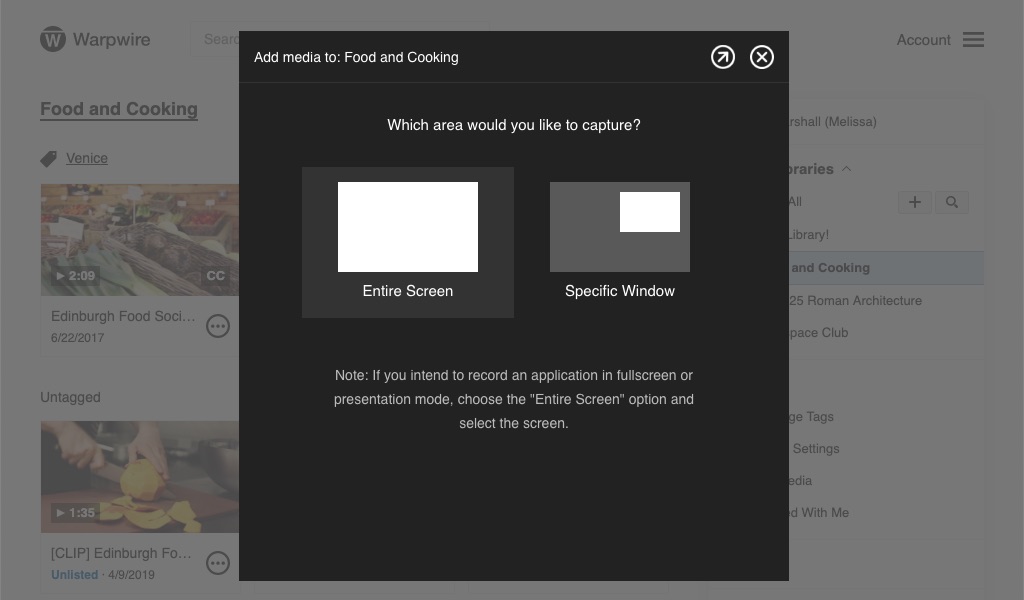 You'll now see the video preview for your new screen recording. After selecting the desired audio source, click the video icon to begin recording.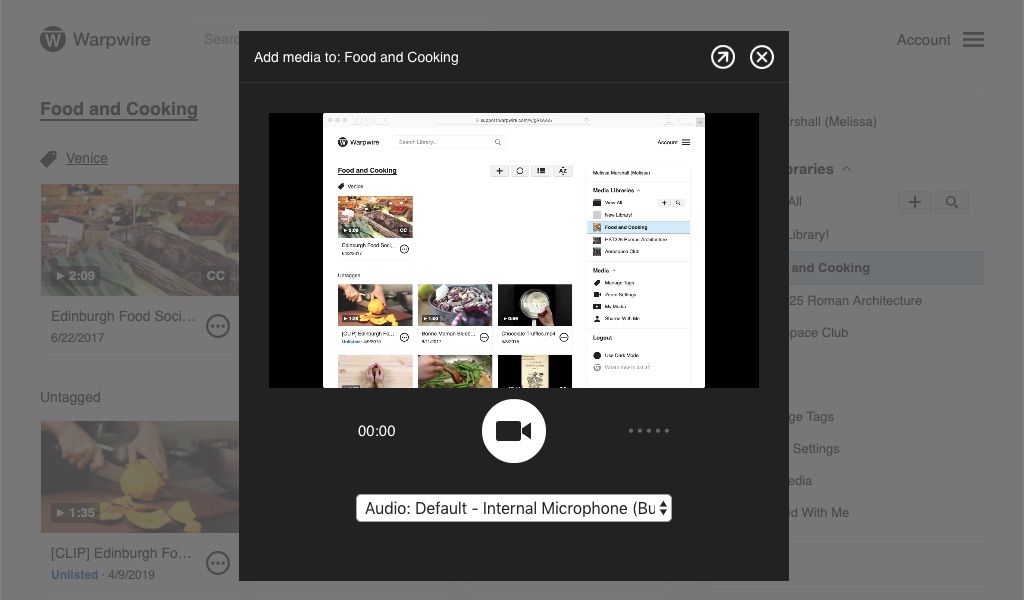 When you're done recording, navigate back to the Warpwire browser tab and click the red circle icon to end your recording. You can rename your file if you'd like, then save. Your new screen recording will save to the Media Library.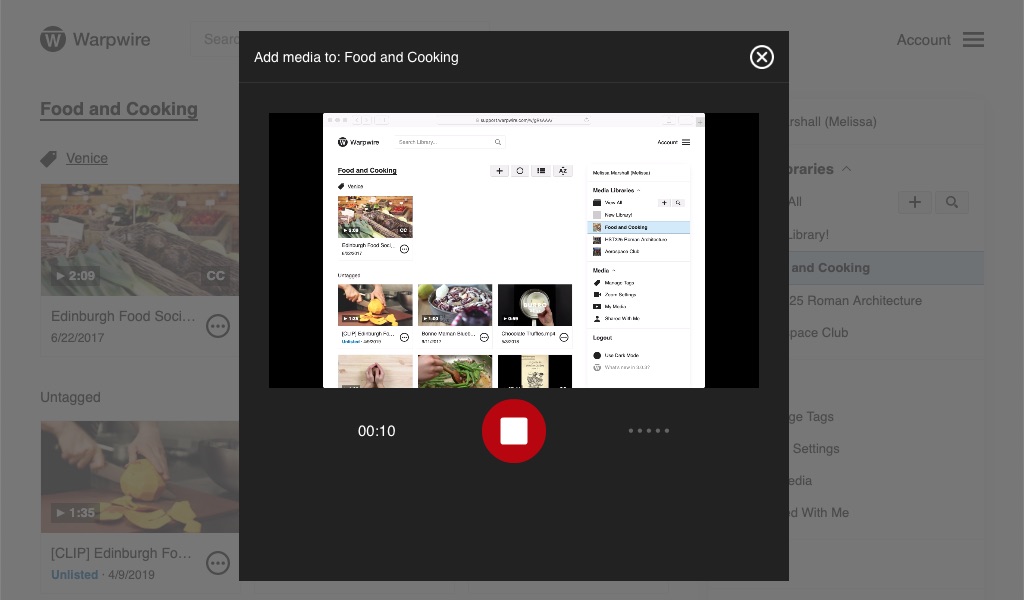 Check out a complete walk-through of the Screen Recording process.
You can add as many tags as you like to any given file to further organize your media. To add tags to a video, click the Media options button for that file, and select "Settings."
From the Media Info page, click Tags ("Add") to manage Tags for that file.
You'll see a tag page that lists all existing tags for your account.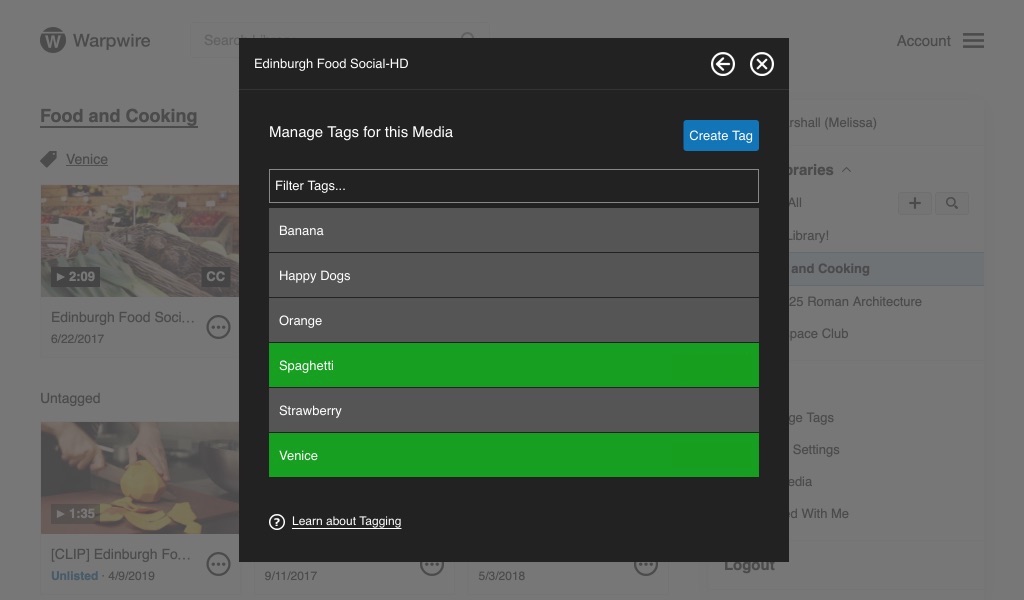 Click on a tag to add it to the asset.
To create a new Tag, click "Create New" at the bottom of the Tag page. Type in the name of the new Tag, then click "Create Tag."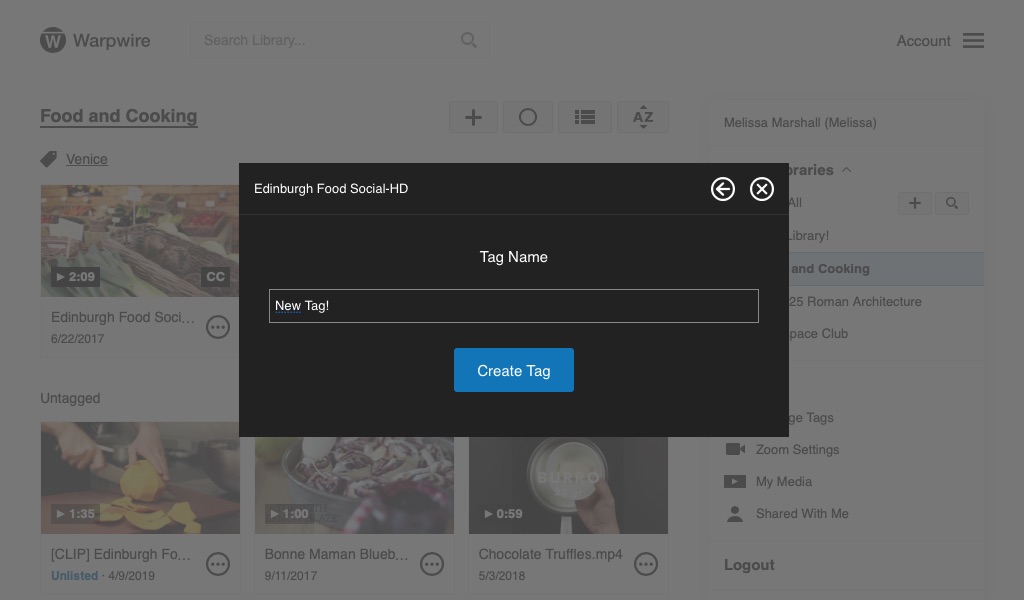 Once created, your new Tag will appear in the Tag list, and will be green, indicating that the current file is Tagged with the newly created Tag. Now you can sort the media in your library by tag, or shared a tagged list with users. Learn more about all the tagging options in Warpwire.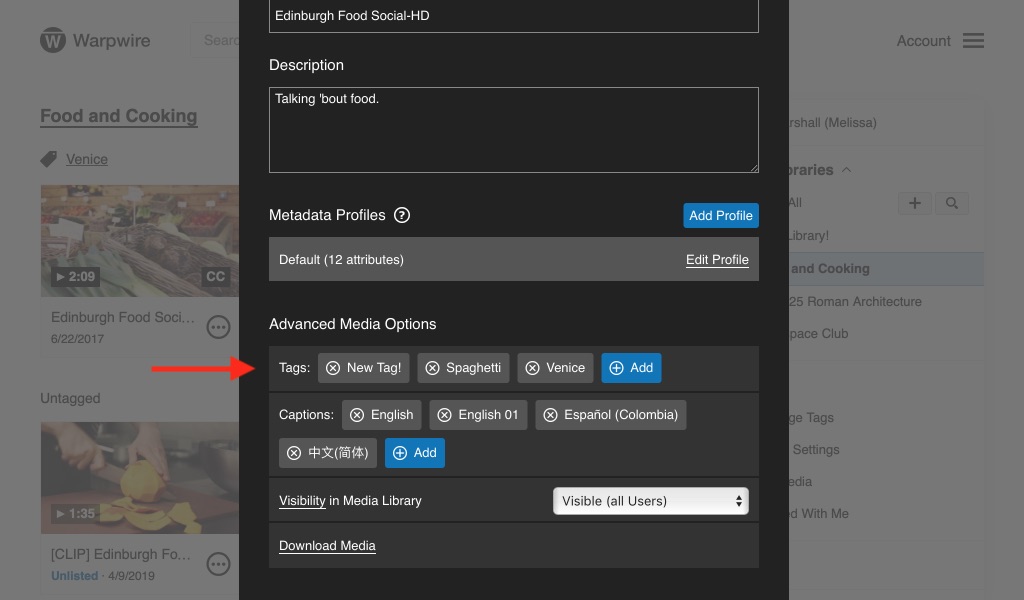 You can share Media Libraries and single media assets with the public, your whole institution, particular users and groups, or set to private. To get started, navigate to the Sharing options page by clicking the media options button for the file you want to share, and selecting "Share."
From this page you can specify who you want to share with. Select which sharing option from the dropdown menu. If you're sharing with particular Users and/or Groups, use the search box to find Users and Groups within your institution.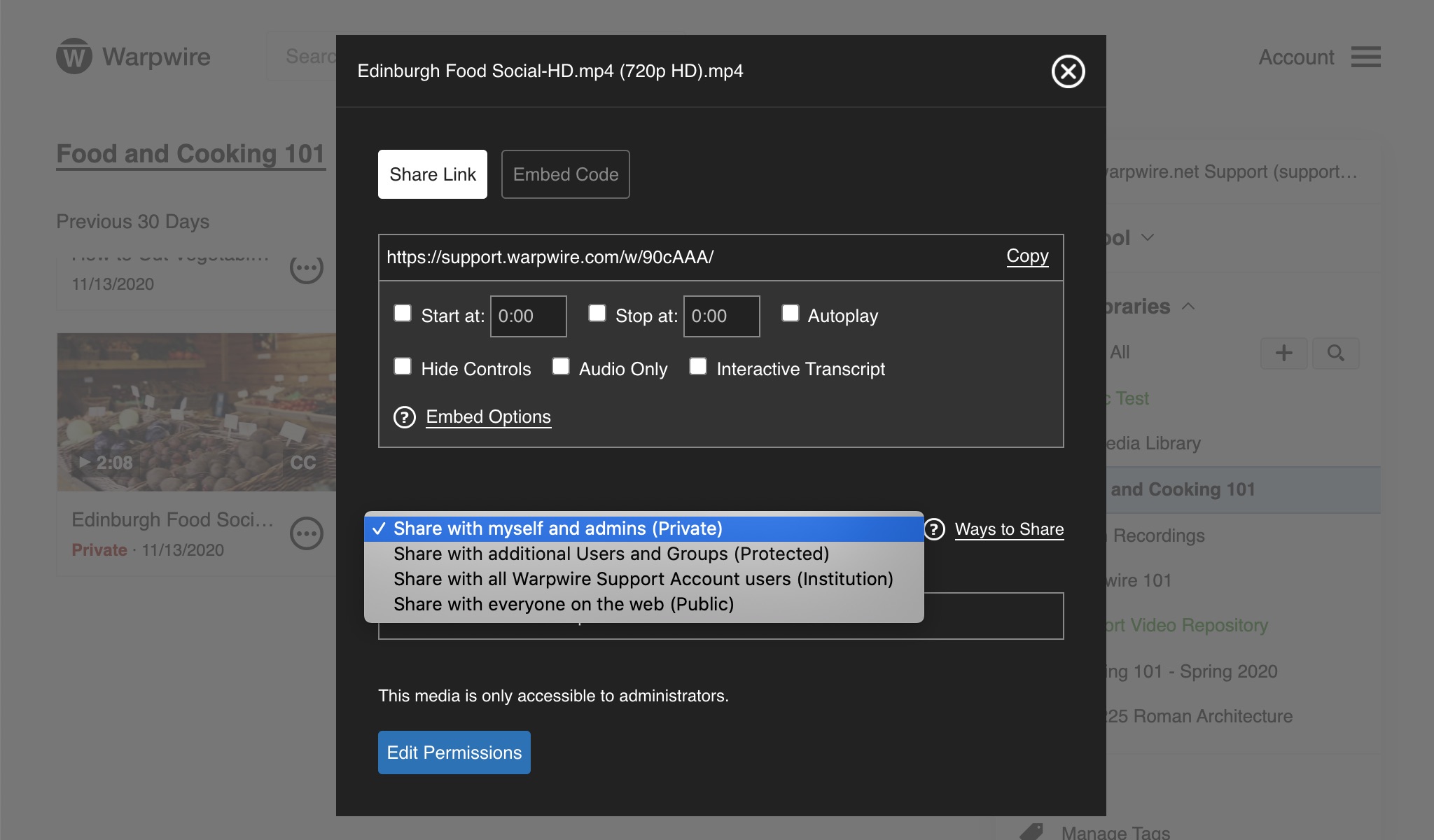 Click on the User(s) and/or Group(s) with whom you'd like to share your media file. Once the name turns green, the share is complete. Now this video or Media Library will be visible to those you've shared it with. You can learn more about sharing and permissions in Warpwire.