Making educational video
powerful and easy.
Making educational video powerful and easy.
Warpwire makes video organizing, capturing, sharing, and analytics simple, with plugins for most any LMS, CMS, or website. Warpwire introduces security that protects media anywhere, works across devices, is cloud-delivered, and built atop a robust API to customize the experience.
Integration that just works.
Warpwire provides integrated plugins to view, capture, and manage media within your LMS and CMS, including Canvas, Sakai, Moodle, Blackboard, Brightspace by D2L, Drupal, WordPress, and EthosCE.
With Warpwire there are no accounts to create. Warpwire integrates with an institution's Single Sign-On system — giving every account access to Warpwire according to defined role and group permissions.
Import your media with ease.
Capture and upload straight from your LMS, CMS, website, or application. With flexible importing options, you can upload video, audio, and image files in the way that's best for you:
Stay organized with Media Libraries.
Curate your media in whatever way you prefer. Create Media Libraries, build tagged playlists, and share with anyone. Embed Media Libraries anywhere to bring all the features of Warpwire to your website or application.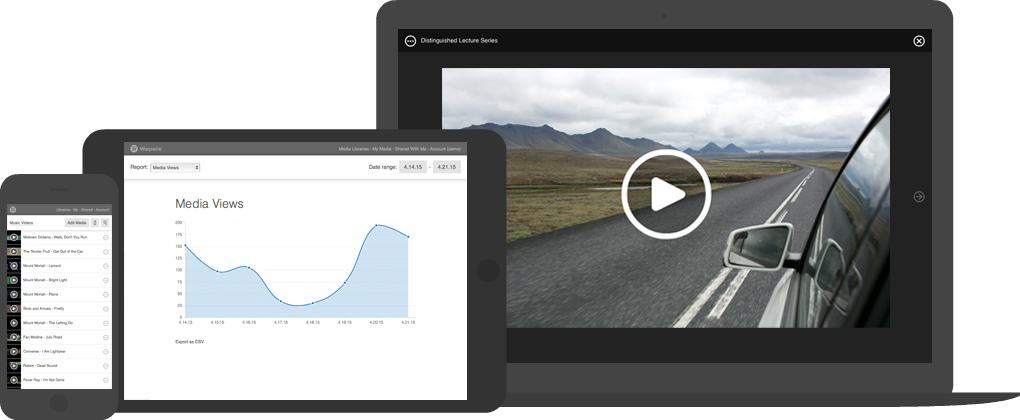 Powerful sharing options.
Share and embed entire Media Libraries, or a single media asset. From specific users and groups to the public web, Warpwire's precise sharing tools let you get your media to the people who need it — and no one else.
Warpwire's powerful institutional search makes it effortless to share your videos with specific users or groups. You can also grant access to everyone with an institutional account, or open it up to the public web.

---

Embed your video, audio, and images, a tagged media playlist, or an entire Media Library. When you embed a Media Library, those with access can capture, upload, organize, and share — all from right where its embedded.
Full functionality on the go.
Desktop or phone, tablet or laptop, Warpwire travels beautifully — the same functionality on any device, with no app to install. Warpwire uses your mobile device's built-in camera to capture. You can also share, embed, and organize your media right from your phone or tablet.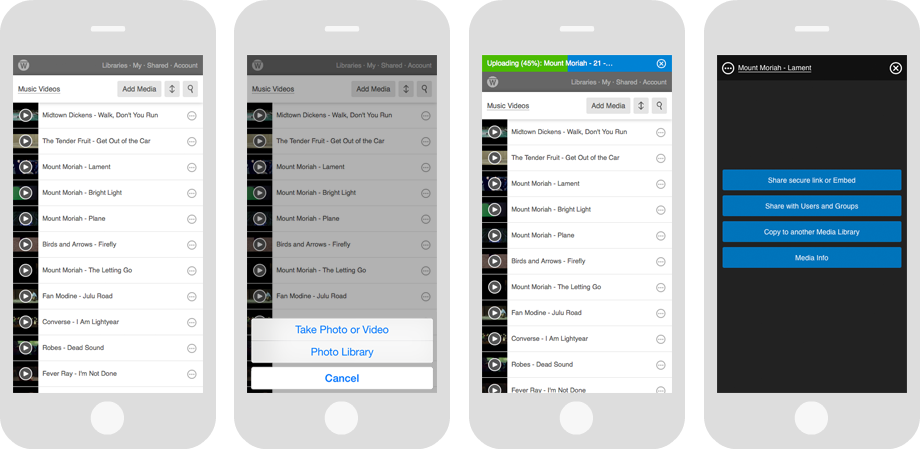 Analytics that gauge impact.
Warpwire provides analytics to help you track media assets, Media Libraries, and system-wide usage. Warpwire reports are designed to easily explore user engagement.
Download reports to CSV or use the Warpwire Reporting API to integrate analytics with external tools like Tableau to create rich and informative visualizations.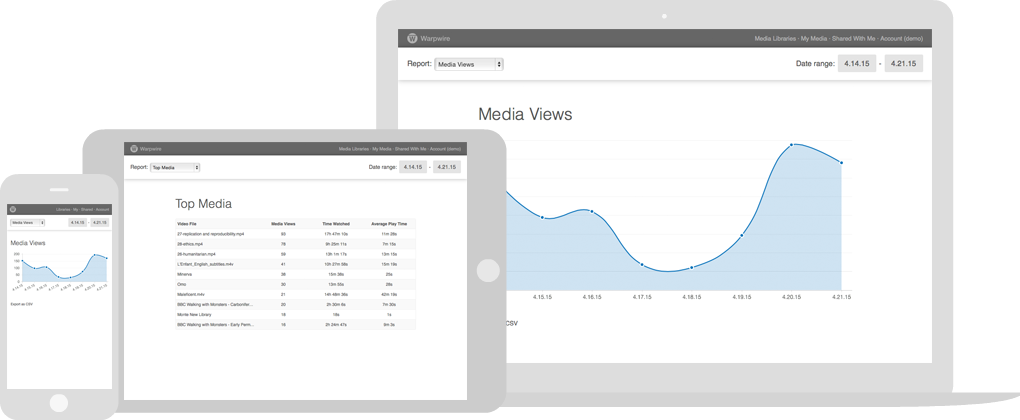 Accessibility by design.
At Warpwire, accessibility means more than merely adhering to legal requirements — it's creating a product that meets all users' needs. Screen reader friendly design, keyboard shortcuts, and closed caption support that just work. We don't see accessibility as a box to check — it's about being an ally, continually improving, and never accepting "good enough."
Closed captions are important to meeting the video delivery needs of the deaf and hard of hearing. They're also helpful for the hearing population: from reading captions in a loud room, to checking comprehension with unfamiliar accents or technical jargon. They also help with language learning.

---

Assistive Technology

We've designed Warpwire to work with screen readers, and to be fully navigable via tabbing. We also utilize keyboard shortcuts for video and audio playback. Read our Voluntary Product Accessibility Template (VPAT), which outlines Warpwire's accessibility compliance.
If you have questions or suggestions about Warpwire Accessibility, let us know.