Warpwire Systems Integration.
LTI Plugins, Single Sign-On, cloud-delivery.
Warpwire provides integrated plugins to view and manage media within your LMS and CMS, including Canvas, Sakai, Moodle, WordPress, and Drupal.
With Warpwire there are no accounts to create. Warpwire integrates with an institution's Single Sign-On system — giving every account access to Warpwire to securely view and manage video according to defined role and group permissions.
Warpwire Media Import.
Capture and upload with ease.
Warpwire makes video capture and uploading easy. Record and upload straight from your LMS, CMS, or website — with no app to install. You can upload video, audio, and image files. With flexible importing options, pick what's best for you.
Mobile Capture

Capture a video or photograph directly from your phone or tablet into a Warpwire Media Library for secure sharing.

Read: Mobile Capture

---

Camera Capture

Use your built-in webcam or an external camera and microphone setup to record — use what's best for you.

Read: Camera Capture

---

Batch Uploading

Have a bunch of files you're eager to share? Batch upload speeds up the process and keeps things simple.

Read: Uploading Media
Warpwire Media Libraries.
Stay organized.
Warpwire lets you curate your video, audio, and image files in whatever way you prefer. Create Media Libraries on the fly, build tagged playlists, and share with anyone. Embed Media Libraries anywhere to bring all the Warpwire features with you, including viewing, organizing, capturing, uploading, and sharing media.

Read: Organize your Media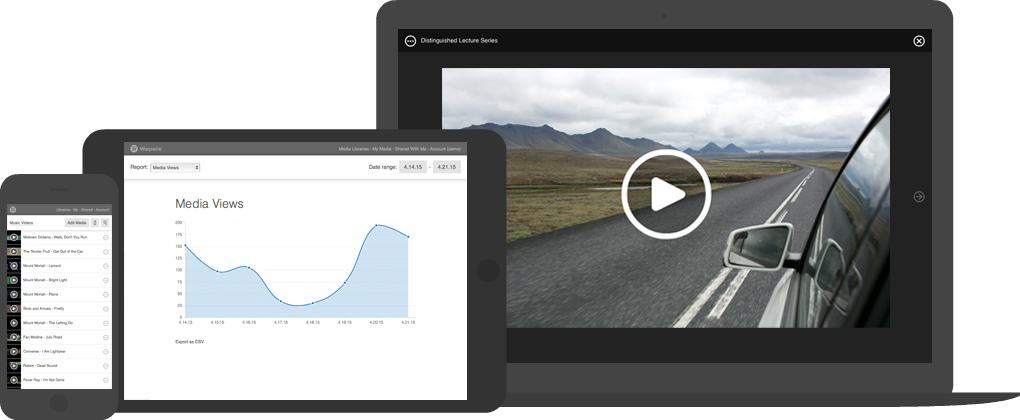 Warpwire Analytics.
Details that gauge impact.
Warpwire provides a variety of analytics to help you track media assets, Media Libraries, users, and system-wide usage for administrators. Warpwire Analytics are designed with easy to understand graphs for exploring user engagement.
Download reports to CSV files for importing data into other programs or use the Warpwire Reporting API to integrate Warpwire Analytics with external tools like Tableau to create rich and informative visualizations.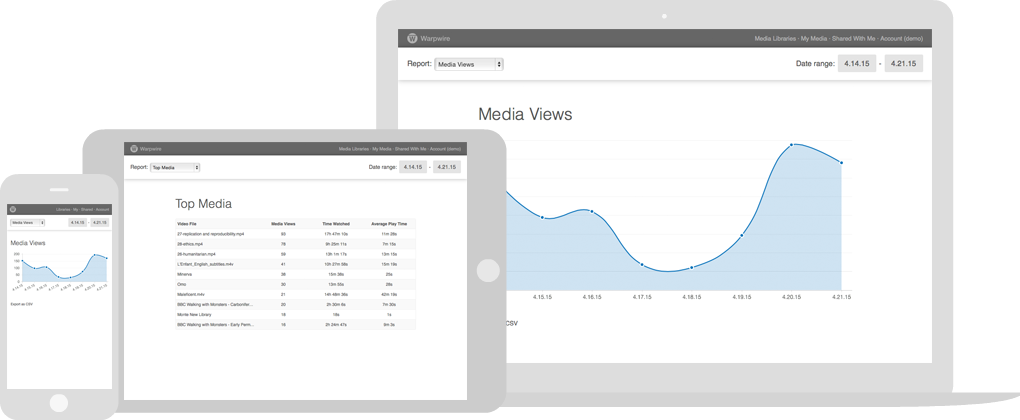 Warpwire on Mobile.Same great interface, on the go.
Desktop or phone, tablet or laptop, Warpwire travels beautifully — the same interfaces and functionality, on any device. All with no app to install.
Need to capture and upload a video on the go? Warpwire makes use of your mobile device's built-in camera and microphone to record. You can also share, embed, and organize your video, audio, and images straight from your phone or tablet.

Read: Upload from a mobile device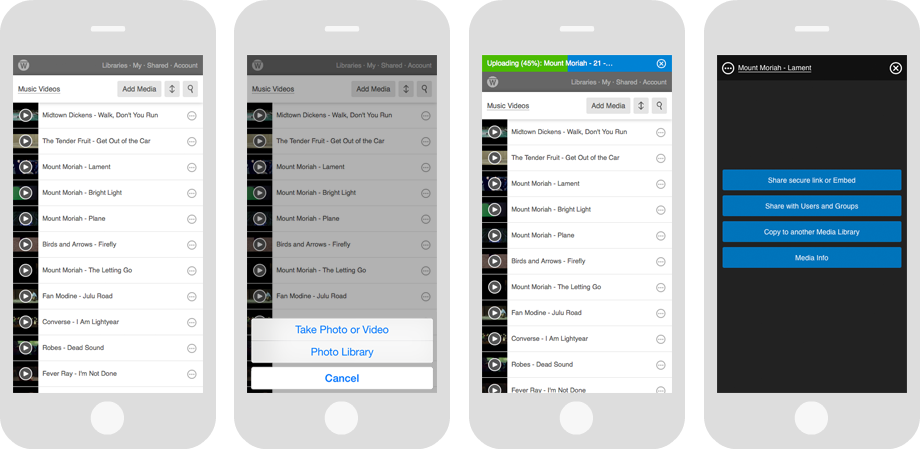 Warpwire Accessibility.
At Warpwire, we believe accessibility isn't just about meeting legal requirements — it's about creating a product that meets all our users' needs. That means screen reader friendly design, keyboard shortcuts, and closed caption support that just works. Warpwire doesn't see accessibility as a box to check — it's about being an ally, continually improving, and never accepting "good enough."
Closed Captions

Closed captions are an important tool in meeting the video delivery needs of the deaf and hard of hearing. They can also be a boon for the hearing population: from reading captions while watching a video in a loud room, to checking comprehension with unfamiliar accents or technical jargon. They're also great when trying to learn a new language.

Read: Closed Captions

---

Assistive Technology

We've designed Warpwire to work with screen readers, and to be fully navigable via tabbing. We also utilize keyboard shortcuts for video and audio playback. Read our Voluntary Product Accessibility Template (VPAT), which outlines Warpwire's accessibility compliancy.

Download the Warpwire VPAT (PDF)
If you have any questions or suggestions about Warpwire Accessibility, email us at support@warpwire.net.