A better way for
institutions
to securely
share media.
Organize, capture, and share anywhere,
with asset-level, Single Sign-On security.
No portal necessary.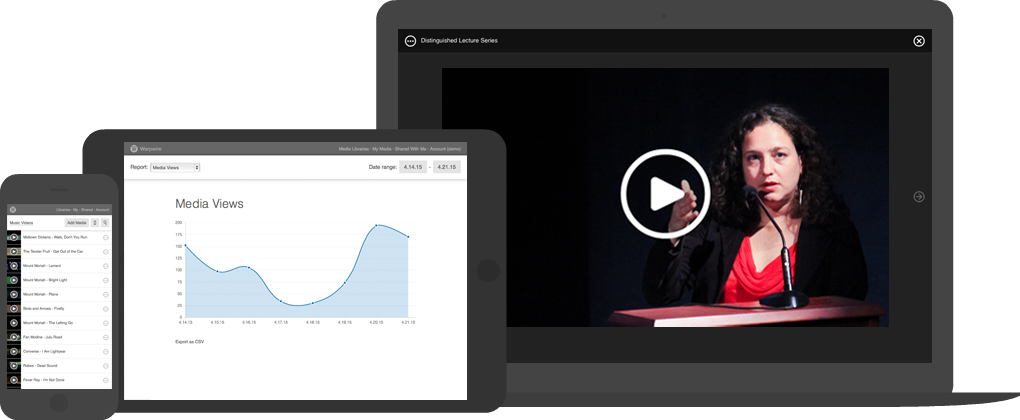 Warpwire is the next generation secure media publishing platform, trusted by educational and enterprise institutions. Warpwire makes secure media organizing, capturing, sharing, and reporting a simple process, with embeddable interfaces that integrate into most any LMS, CMS, private portal, or public website.
Warpwire introduces asset-level, Single Sign-On security that protects media assets no matter where they are. Warpwire works seamlessly across mobile devices and computers, can be flexibly hosted in the cloud or on-site, and is built atop a powerful API that can customize the media delivery experience.
Warpwire Media Libraries.
Easily organize, capture, and share media.
Warpwire Media Libraries allow users to easily organize, capture, and share media collections or individual video, audio, or image files via their computers and mobile devices. Warpwire Media Libraries also provide access to detailed usage analytics, can be integrated into existing management portals to enhance media publishing capabilities, and are securely embeddedable to enable secure media delivery to take place anywhere. Learn more ›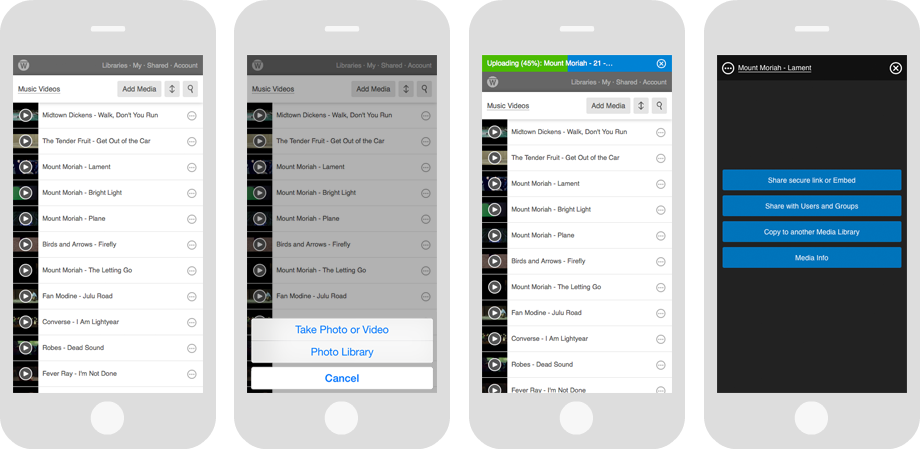 Warpwire Analytics.
Details that gauge impact.
Warpwire provides detailed analytics to understand how users engage with an institution's media assets and Media Libraries, and for assessing system-wide usage. This data allows content creators and administrators to gauge pedagogical and institutional impact of the media publishing taking place. Warpwire even provides granular data on how much time particular videos are being watched by individual users. Learn more ›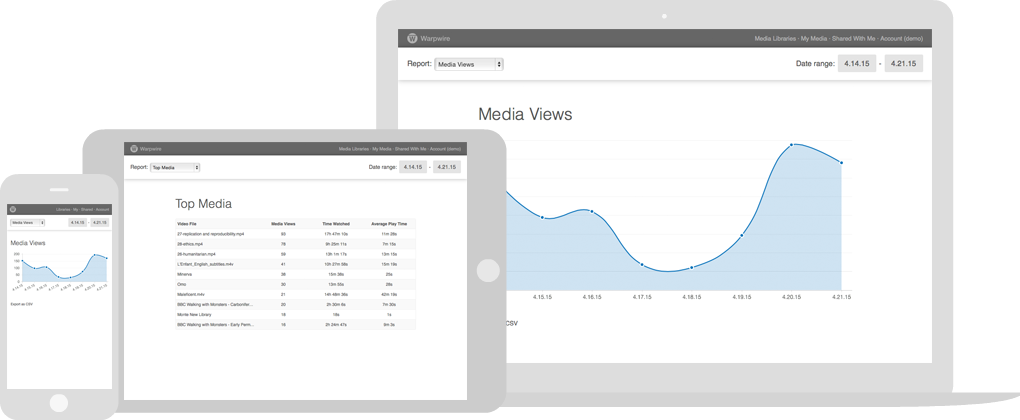 Warpwire Systems Integration.
LTI, SSO, and cloud or on-site hosting.
Warpwire provides integrated solutions to organize and publish media within most any private portal, public website, CMS, and LMS (via LTI) such as Sakai, Canvas, Blackboard and WordPress. Warpwire works with an institution's user management team to seamlessly integrate the Single Sign-On (SSO) system, providing instant access to Warpwire for desired institutional accounts. Warpwire's technology operates in an elastic cloud environment, or can be hosted on-site within an institution's own infrastructure. Learn more ›