Note: Deep Linking functionality is currently available only to Sakai course instructors and admins. Content uploaded and embedded by students will not be automatically shared with new course members when a course is copied.
Deep Linking, sometimes also called 'Content Item,' is an IMS LTI standard that makes it easier to share content in Sakai, particularly when course content is copied and reused.
Deep Linking offers two main benefits:
Course instructors and admins will now be able to insert any assets from any of their Media Libraries, rather that just the library corresponding to the Sakai Course they are working from.
When a course is copied in Sakai, videos embedded using the new tool will automatically be visible and accessible to students in the new course. This removes the need to manually share old videos with new instances of a course.
First, the plugin needs to be installed universally in your institution's Sakai instance. Once it's been installed at that level, you'll be able to turn it on and off for your course. Speak to your Sakai administrator to request that the new Deep Linking version of the Warpwire plugin be installed in your instance of Sakai, if it isn't already. Your Sakai administrator can find information about installing the Warpwire plugin, and can download the appropriate version, on our GitHub page.
If the tool is universally installed, you'll be able to enable it for your course. Begin by clicking "Site Info" on the left-hand toolbar from within the course.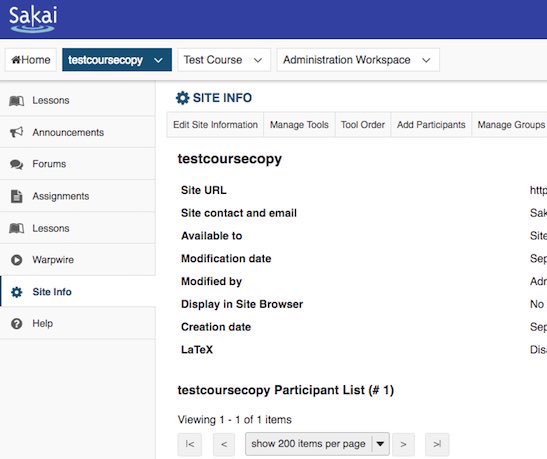 Then, click "Manage Tools" from among the tabs at the top of the page.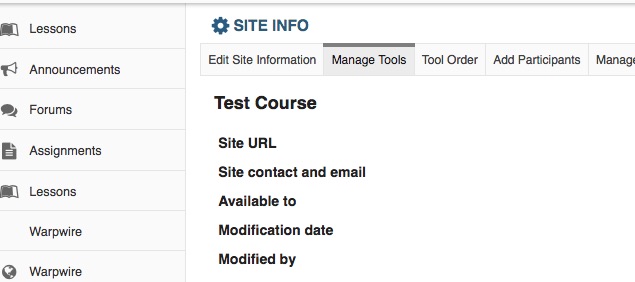 Scroll down, and check the box next to "Warpwire."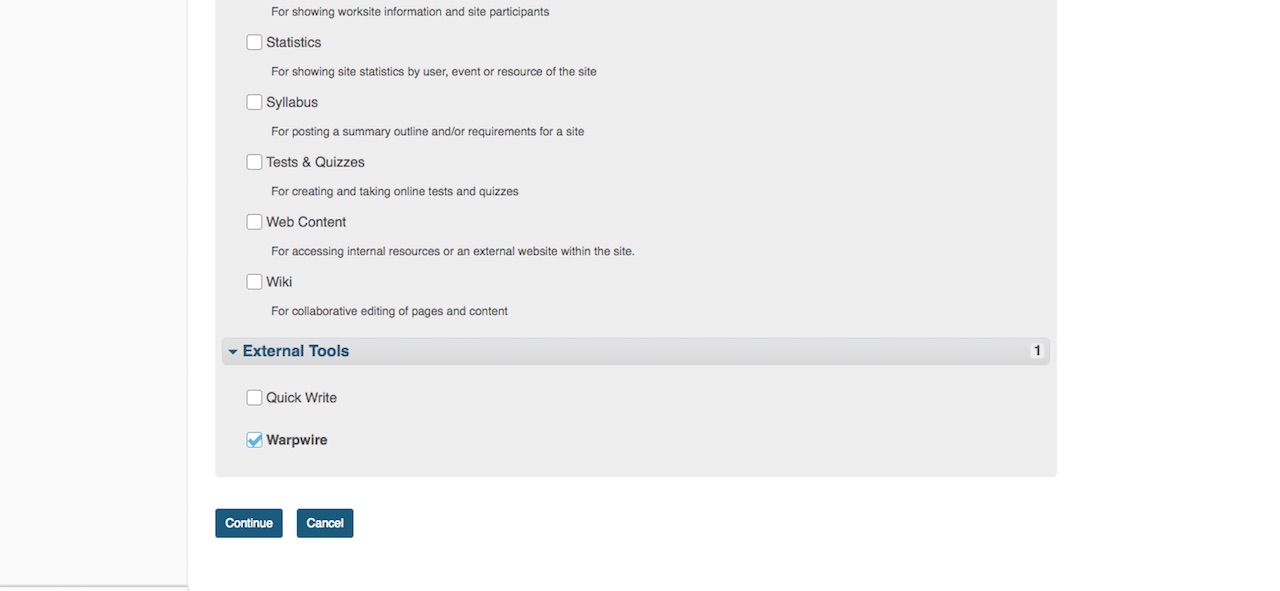 Once you've verified this choice, you should see a "Warpwire" link at the bottom of the left-hand toolbar.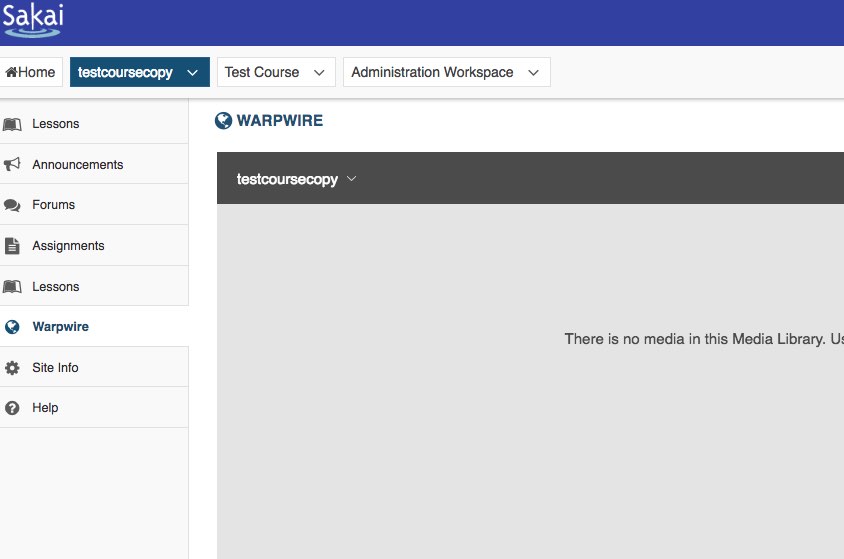 All embedded videos will remain, but videos embedded before the installation of the Deep Linking compatible plugin will not be visible to new students when you copy a course. Instead, they will see a locked video, as below: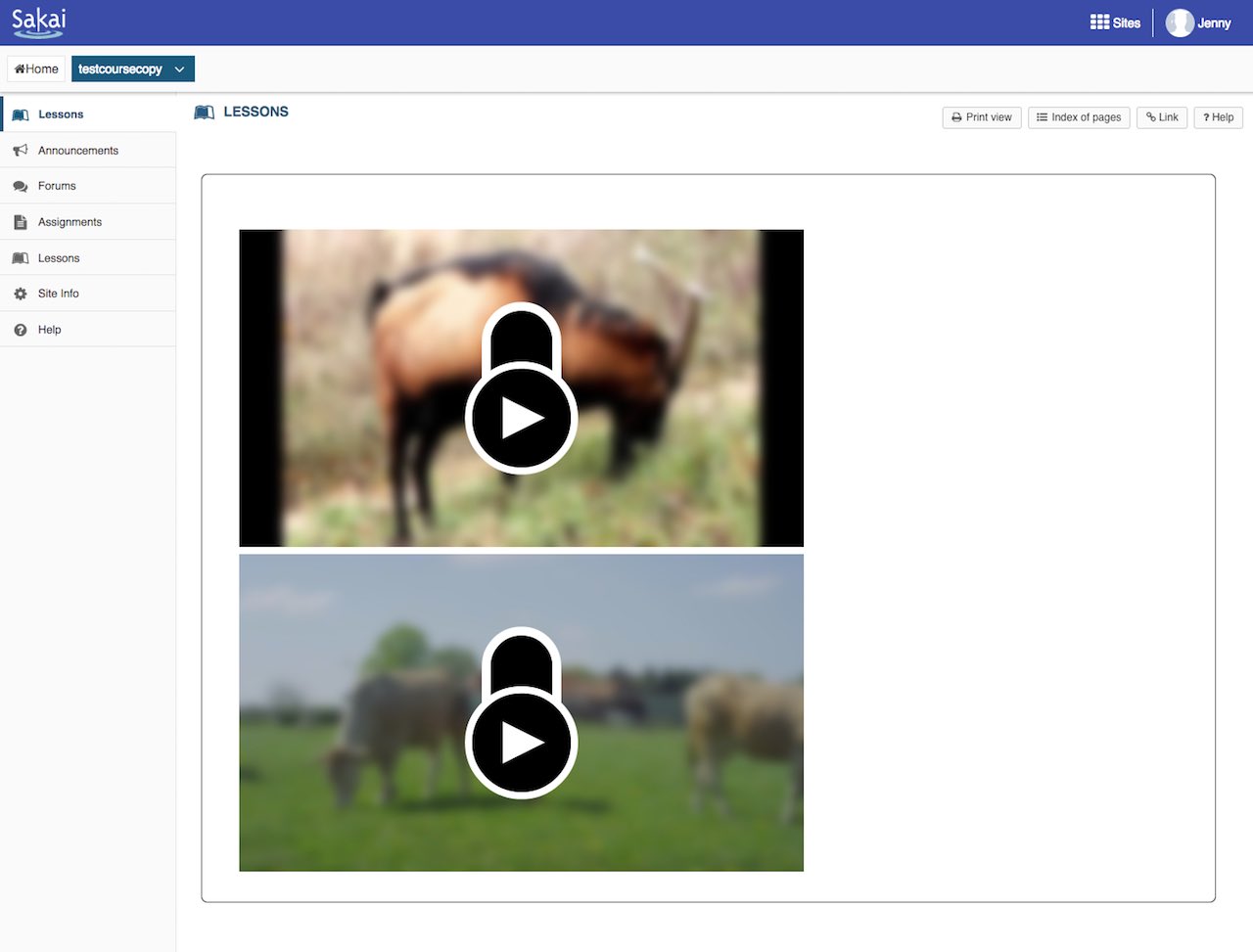 In order to transfer to the new tool, you won't simply share the old videos or Media Library as you did in the past.
You will need to delete the original embed and re-embed using the new Deep Linking compatible Warpwire tool that you just installed.
Just once, you'll need to delete the old embedded videos and replace them using the new Deep Linking Warpwire tool.
Luckily, the new tool allows you to embed videos from ANY of your Media Libraries, not just the one for the Sakai course you are working in. See the image below, where the instructor can use a drop down to navigate to any of their Media Libraries.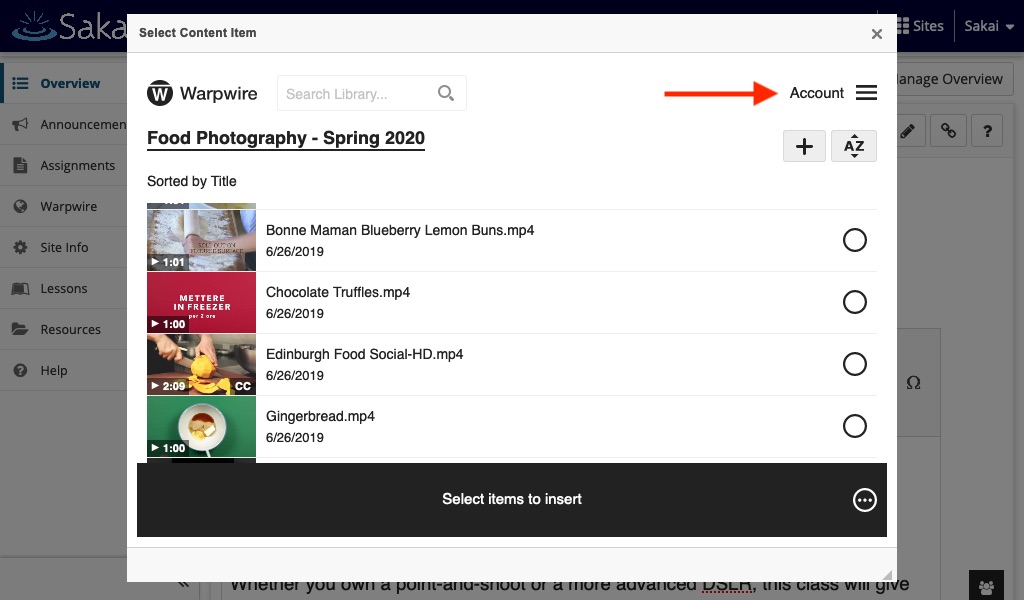 Once the videos have been embedded using the new plugin, when you copy courses, sharing will happen intelligently and automatically. Each new batch of students will be able to see relevant course content.
Here's a page with videos embedded from multiple Media Libraries. Because the user has accesss to the Sakai course, they are automatically granted access to all of the videos on the page - even ones from other Media Libaries!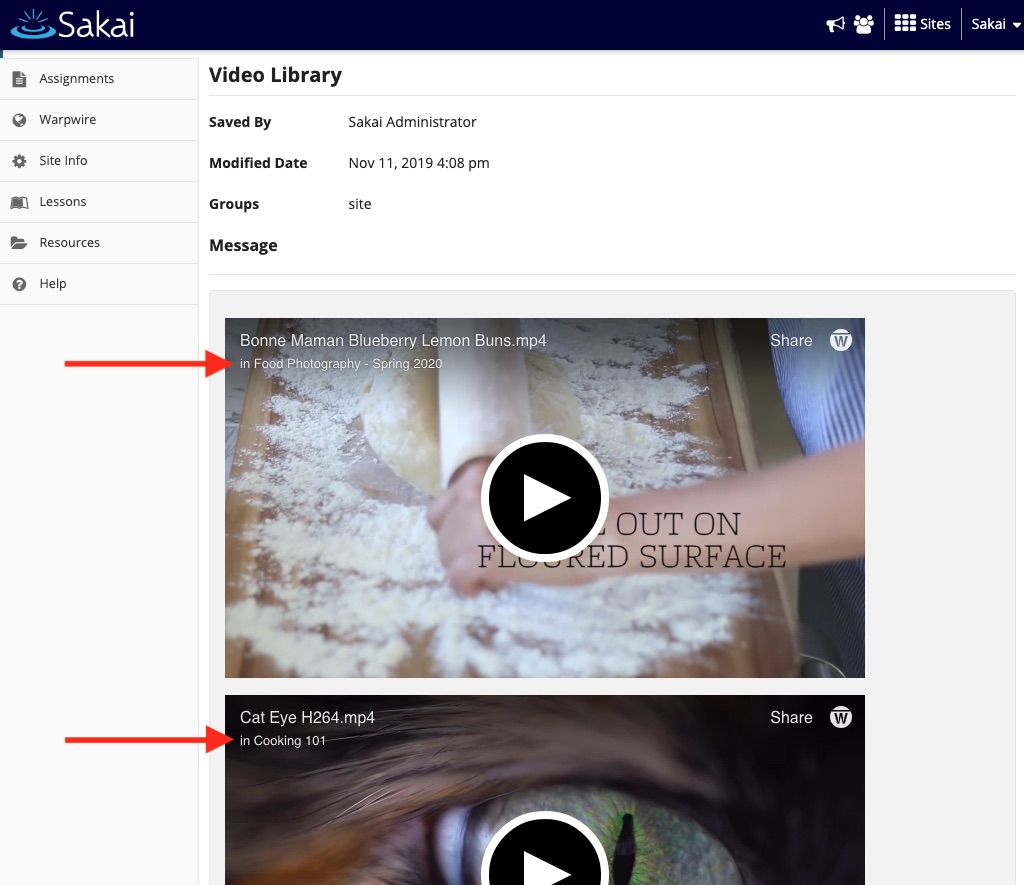 This manual re-embedding is a ONE TIME process. Once the new tool is regularly used for embeds, you will no longer have to do any sharing work when you create a copy of a Sakai course that includes embedded Warpwire content.
Yes! All old videos will behave just as they always have. Permission will not be automatically granted if you copy the course, but original course members will be able to view all content in the course, regardless of which tool was used to embed.
The new system will impact course copying from point of installation onwards.
Yes. There is no issue with a slow migration with some courses continuing to use the old plugin and some using the new. You can toggle the plugin on and off via the Site Tools' "Manage Tools" tab, as described above.
You can follow this guide to uploading and inserting media in Sakai.
As a student, you'll be using the original Warpwire plugin. There are some limitations to this version:
Any content you embed will not be automatically shared if the course is copied for use in another semester
You can only select content from the currect course Media Library to embed
If your instructor has contribution mode turned on, you'll be able to upload content into the course Media Library
Aside from these limitations, you'll use the process outlined here to upload and insert content within Sakai.
Contact us if you have any questions.